Medusa Yachting
Medusa Yachting is a new company entering the catamaran charter world, offering luxurious cruises to visitors of the Greek Islands. Our job was to suggest a strong, powerful logo that has a clear visual connection with the service they provide and inspires at the same time luxury, strength and dynamism. Following that we developed a website, friendly to people with vision impairment, with SEO oriented content.
Logo
The logo was inspired by the shape of the catamaran. The desired elements we wanted to highlight were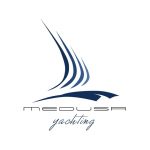 1. The movement of the vessel in the sea. 
2. Dynamic & powerful style 
3. Luxurious aesthetic